Aveda Institute New Mexico
When you find a place that values you as an individual while fostering growth, excellence and relationships, you know you're home.
The Aveda Institute New Mexico will provide you with cutting-edge techniques taught by world-class instructors who help to develop and hone your skills according to Aveda's top-notch education standards.
You'll graduate from our program prepared not only for a fulfilling and profitable career in the beauty industry, but also as a well-rounded person and steward of the earth, with relationships to last a personal and professional lifetime.
At Aveda Institute New Mexico, you'll learn to not only master your craft, but to master yourself as well—and to communicate on a different level.
It's time to come talk to us.
---
Why Aveda
All cosmetology schools are NOT created equal! Certified beauty schools or cosmetology programs are all required to prepare their students for the state licensing exam — teaching foundational haircuts, color, and chemical processes. But Aveda Institutes offer so much more than prepping you to pass that test.
When choosing a cosmetology or esthiology school, it's smart to give equal consideration to the career you'll launch when you graduate. No other cosmetology or esthiology program gives its students a better entry into a high-end salon and spa career. According to beauty industry studies, Aveda cosmetologists and estheticians earn 3 times more than their counterparts — and that's no accident.
---
Mark "Pardo" Gonzales
The beauty industry is a longtime home to Mark, who grew up learning by observation at his dad's business, Pardo's Barber Shop. The family business ultimately became the platform that launched Mark Pardo SalonSpa—the largest independently-owned salon in the state—and the Aveda Institute of New Mexico. Though much has changed, one thing never has: Mark's mission to provide the highest quality of education to the next generation of world class beauty professionals and his commitment to give back to the community that built him. Today, those same values drive everything we do.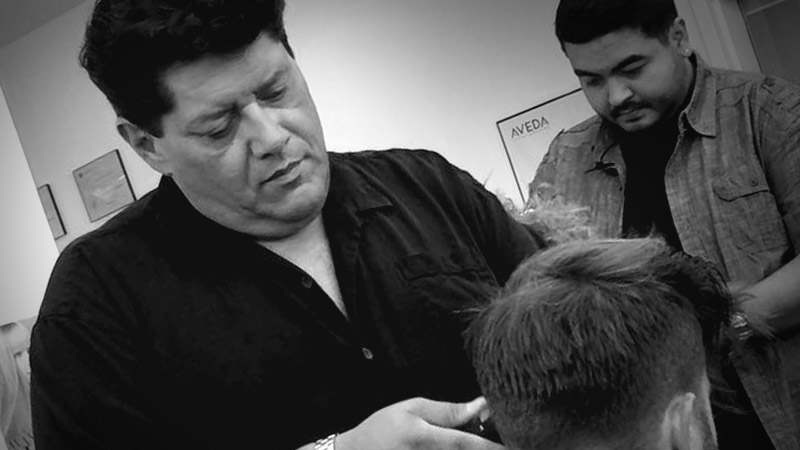 ---
Community Involvement
American Lung Association-Lung Force Walk
Students not only preform rituals on those who participate, those undergoing treatment, and those who have survived lung cancer. They will also participate in the walk itself, which raises awareness for lung cancer.
American Lung Association-Climb for Air
During this event, we strive to raise $500 that will go towards local research of treatments for lung cancer. Students also preform rituals to those attending.
Aveda Institute New Mexico Fashion Show
Each April during Earth Month, the students and staff at Aveda hold a fashion show to benefit Wild Earth Guardians, a local charity that provides rehabilitation of our forests, relocation of local wildlife, and supports environmental sustainability. Students provide the hair, makeup, and wardrobe for all of the models.
Cuts4Kids
This event, held by Molina Medical Clinic, provides complimentary haircuts during back to school season. The students who participate in this event will receive community service hours for their time.
Dancing with the Stars for Alzheimer's
In the spring, this event is held at a local casino to help raise awareness and funds for Alzheimer research. Our students help with hair and makeup for the dancers, as well as perform rituals for those attending.
Earth Month
Throughout the month of April, Aveda as a company comes together to raise money to provide clean water to global communities in need. A single Earth Month candle provides clean water to a family of 6 for 6 months. This global outreach is specific only to Aveda. We also take $10 donations that go towards replanting local forests that have been devastated by forest fires or natural disasters.
Fashion Program
By partnering with Warehouse 508, we will raise donations to provide sewing machines and supplies for local youth Arts and Fashion design. During their fashion show, our students participate in doing hair and makeup. The young winner of the fashion show will win a sewing machine and a scholarship.
Fashion Week New Mexico
In this fashion show, our students receive the opportunity to experience being a model and walk the runway!
Freedom House
Students will participate in doing hair and makeup for a fashion show that raises money and awareness to stop human trafficking.
Gathering of Nations
During the Miss Indian World beauty pageant, our students will provide hair and makeup for the contestants.
Girls Night Out
By performing updos and rituals to future brides, our students give women a chance to relax before their big day!
High Heels for High Hopes
This fashion show, held in partnership with the March of Dimes, exhibits different designers whose designs are available for purchase. All proceeds go towards the March of Dimes, and our students assist with the hair and makeup for the fashion show.
Kite Fest
This annual fundraiser, held at Balloon Fiesta Park, helps to raise money for Alta Mira in support of families impacted by developmental disabilities.
Ladies Day Out
To celebrate mothers around Mother's Day, our students preform mini services and rituals to pamper the mothers of our community. This event is held at Cottonwood mall and is open to both Cosmetology and Esthiology students.
La Vida Llena
Our students preform the hair and makeup for a fashion show held at one of our local senior care centers.
Local Proms
You will get hands-on experience while helping local teens get ready for their prom! While prom is our busiest dance event, we also perform updos and makeup applications for Homecoming and Winter Ball dances.
Mark Pardo Fashion Show
For this event, our students assist our sister salon Mark Pardo with their yearly fashion show. This is a great way for our students to network with licensed stylists.
New Mexico Bridal Expo
Held at the lsleta Casino, this event allows our students to help brides from all different backgrounds get ready for their wedding by assisting with their hair and makeup.
New Mexico Grand Slam
This event, which is held at the Santa Ana golf course, works to benefit Native American children by assisting with their health care and school expenses. At this event, students perform hand rituals and provide information about our school to those attending.
North American Hairstyling Awards
During this competition, our students help our sister salon Mark Pardo by helping with hairstyling, makeup, and wardrobe. This event includes a photoshoot which was held at our school last year, and it allows us to compete nationally against other salons.
Roots Revival
Each year, the African American pavilion holds a differently-themed play. Our students provide hair and makeup for this week-long event.
State Fair Career Day
This event allows current students to spend the day at the fair performing rituals and providing information and insight about our school to potential students and their parents.
State Fair Rodeo Queen Competition
We assist with the hair and makeup for the local State Fair Queen beauty pageant.
Toys for Tots
During the holidays, we take donations in the form of clothing, books, and toys for local underprivileged children.