"A global celebration in honor of the craft of hairdressing and the Aveda network, Aveda Congress is a four-day event that recognizes top talent, inspires and educates with technical and creative presentations, and fosters a deep sense of connection to Aveda's heritage of distinctive artistry and social responsibility." AVEDA
After being with Aveda for 14 years behind the chair and teaching at multiple institutes, I've always wanted to attend Congress. This was my year! I wasn't sure if anyone was going to come with me at first and I just bought the tickets the day they became available. I wasn't sure what to be prepared for when October rolled around. Was it going to be a hair show like all the rest I've been to with a big stage and everyone sitting around? Was it going to be everyone walking around watching artists work on models? I had no clue what to expect.
Saturday: I arrived in MN with 2 of my fellow cosmetology instructors, Rosanna and Johnny, and we got all settled into our hotel. Things started the first day we were there so we changed our clothes and headed out to the convention center where we were all greeted with name tags to wear around our necks. We got there right when the Aveda swag store opened and anyone who has worked for Aveda knows how precious all the bags/shirts/bottles/pins are with the Aveda A on them. Turns out there was already a longggggg line of colorful haired people wearing all black. We waited for a couple of hours in that line and ran into some people we knew. Once we got to the end of the line we grabbed as many goodies as we could! We ventured around for something to eat and wound up at a place called Sushi Train. Soooo good! Later that night, Johnny stayed behind and Rosanna and I met up with the director of our institute Roxanne back at the convention center for the Hair Jam. Lots of loud music and hair stylists doing creative things on stage. It was really cool to see a few of my previous employers on stage from Aveda South when I worked in New Orleans. After the Jam they had a dance after party but we were pooped and needed to wake up early.
Sunday: We got to the convention center super early and everyone was lined up by the doors waiting for them to open to get a good seat. Thankfully Rosanna had been to Congress before so we knew it was first come first for seating and we had to arrive early. When they opened the doors everyone rushed in and we went straight to the middle and saved a whole row of seats for our team to sit together. The show started with some wellness activities, because Aveda! Some of the leads in the beauty industry spoke about the hair world and got us inspired for the day's presenters. There were salons from all over the world that came to showcase their talent through very inspiring demonstrations, model walks, ect. We went to eat at Hell's Kitchen that night where Johnny had been dying to check out. Later, we went back to the convention center to watch a few more performances. One of the best being from Antoinette Beenders. She had circus acts and all sorts of wild things happening. She has always been a huge inspiration for me so I would be impressed no matter what she did but she wound up cutting a model with fine hair on stage by teasing her hair in horizontal sections and slide cutting some layers into her hair. Loved it!
Monday: Woke up early and got even better seats! I ran into a hair stylist I have been following on Instagram for years and she recognized me so that was super cool to finally meet her. This was the last day and we saw Lupe Voss who is always so inspiring with her creative color placement and she shared some of her formulas. We got to see Ian Michael Black, Jon Reyman, Ricardo Dinis, Bea Watson and Janell Geason to name a few of my favorites!
I am so fortunate to have been able to attend Aveda Congress 2018 for their 40th anniversary! I know it would have made the late founder Horst Rechelbacher so proud! To many more. I love being a part of the Aveda community and getting to come home inspired to teach the students everything we learned!
– Dillon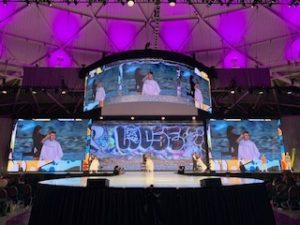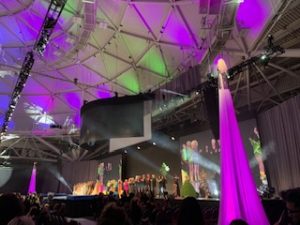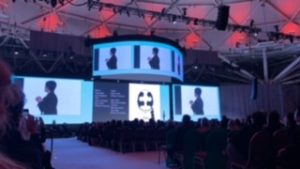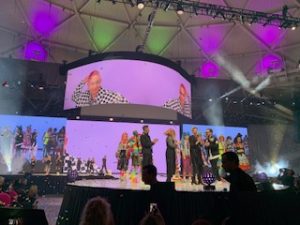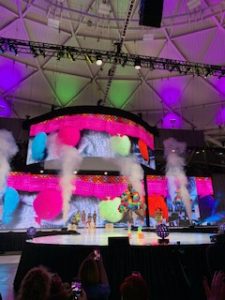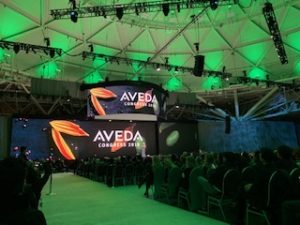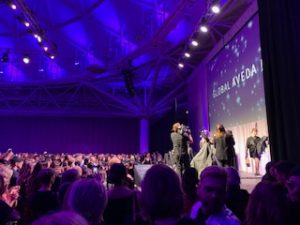 Comments
comments